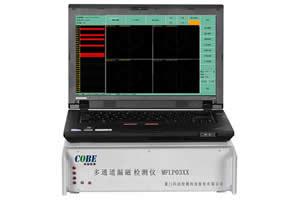 Application:
The multichannel metal magnetic memory testing instrument is a multifunctional inspection unit integrating digital, magnetic memory, and microprocessor technology to carry out stress concentration zone and fatigue crack defect detection testing on ferromagnetic metal components in real-time. The equipment is suitable for component testing in heavy industrial applications such as nuclear power, petrochemical, and aerospace projects.
Parameters
Detection speed: 10--30m/min
Detection channel: 16 (can be expanded to 128)
Lift-off: 150mm
Minimum stepping: 1mm
Minimum resolution of magnetic field: 0.1GT
Gain range: 0~99dB continuously adjustable, stepping: 0.1dB
Display modes: waveform, value
DSP digital filtering: low-pass: 0hz~2000hz, high-pass: 0hz~2000hz.
Functions and features
The multichannel metal magnetic memory testing instrument has the following functions:
1. Real-time memory of 16 trace signals
2. Several hardware alarm output
3. Large storage of various detection procedures and testing data
4. Optional professional magnetic memory data analyzing system
5. Evaluation data query of different life-span of different materials
6. Real-time alarm modes of different levels
7. Automatically increase or decrease the effect of geomagnetic field
8. Various methods of query and comparison of each test result
9. Optional distance detection device
10. Rapid digital electrical equilibrium
11. Menu-style man-machine dialogue (in traditional Chinese, simplified Chinese or in English)
Advantages of digitization:
The multichannel metal magnetic memory testing instrument adopts full digital system design. The system is equipped with professional eddy current analyzing software with powerful data processing capabilities.
This instrument can be equipped with professional data analyzing software to perform metal magnetic memory testing for stress concentration of metal materials. It can evaluate the service time of the equipment and pre-diagnose metal materials. This can solve the detection problems that cannot be solved by conventional NDT methods.
It has powerful database support.
Advantages of automatic system:
The multichannel metal magnetic memory testing instrument can provide a professional detection program to realize high precision and high speed automation.
It adopts non-contact testing to protect the target parts from being scratched and to prolong the life-span of the probes.
User favorite features:
The software is self-starting and the detection is one-button to start.
The instrument can automatically generate a testing report.
The detection will not be influenced by the size and shape of the workpiece.
We can design professional probes and mechanical automation equipment for our products to improve detection efficiency and reduce detection cost.
Other products