Custom NDT Solutions
Here at COBE, we provide our customers with custom NDT solutions in addition to our standard line of testing equipment. Our staff carries out the design manufacturing, implementation, and maintenance of various instruments suitable for utilization across a wide range of industrial production operations. The COBE team has experts in the design of software, hardware, and electrical automation integration solutions. COBE products have been adopted by operations all over the world for finished and semi-finished product testing for high-end manufacturing jobs, such as aerospace, nuclear power plants, and automotive projects.
Design resources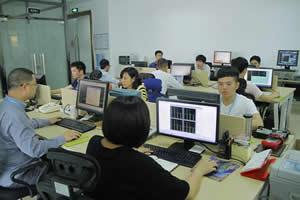 COBE has a product design center with experienced team members in the field of NDT testing. The design team can provide technical support in producing electromagnetic (eddy current, magnetic flux leakage, magnetic memory) equipment, ultrasonic testing equipment, industrial endoscope.
The design team has strong R&D ability in developing basic algorithm, standardized instrument and custom system integration. Up to now, the team has developed model machines for testing equipment sets and automatic systems. Hence we win the design and production orders of the testing system of HONDA engine.
Production center
The COBE production center is equipped with the machinery to produce NDT testing equipment sets on a mass scale while guaranteeing a high level of quality. We have the capabilities to provide custom services for our different product types with adjustable specifications depending on customer requirements. To date, we have produced numerous large scale orders of NDT equipment for customers in aerospace, military, metallurgical, and automotive industries.
The production process of our equipment includes the assembly of electrical components, installation, and debugging of NDT systems. For special cases we also work on the integration of the testing equipment into existing production machinery. All finished equipment sets and systems are strictly inspected according to the related QC standards.
Service process
We have a thorough service process for all of our NDT solutions:
1. The customers will submit their requirements and inquries
2. Our customers should provide us their testing requirements and the specific information of the workpiece to be tested. The information includes:
1) Material of the workpiece such as pipe, plate, automobile parts, metal parts etc.
2) Dimensions of the workpiece such as caliber, wall thickness, length etc.
3) Testing precision/standard requirements for testing
4) Testing speed
5) Investment budget
6) Other specific requirements.
3. The technical department of COBE will figure out the related solution according to the testing requirements. The design schematics will be composed and delivered, then the complete technical solution will be provided by the pre-sales technician. Finally, the service staff member will deliver the data to our customers for confirmation and then wait for feedback.
4. We will compile and agree upon a final plan with the customer. Then we will sign a sales contract.
5. After payment is received, we will immediately begin production on the order. The customer is invited to our factory to perform a pre-acceptance check. The products will then be disassembled and delivered upon approval.
6. After the products are delivered, we will arrange an after-sales technician to perform installation, debugging, training and a pilot run. Then the customer will sign the final receiving report.
7. We provide long-term after-sales services, communicate with customers periodically, and provide suggestions and solutions to any problems that may arise during use.
8. The software will be regularly updated and the operation training of the new version will be provided.