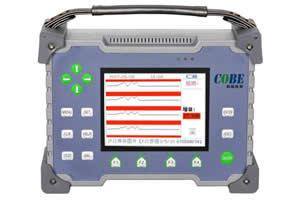 Application:
The COBE metal magnetic memory tester is mainly used to detect the most dangerous parts and workpieces in the stress concentration zone of heavy industrial equipment.
The portable metal magnetic memory tester can realize rapid detection because there is no need to clean the surface of the workpiece before testing.
It can be used for flaw detection and stress detection for in-service metal parts in industries such as nuclear power, petrochemical, aerospace, etc. It can also be used to carry out flaw detection, analysis and evaluation of various ferromagnetic pipes. Meanwhile, this tester can test boiler pipes, petrochemical pipelines, pressure vessel pipes and oil storage equipment.
System parameters
CPU: ARM11 embedded 32-bit 500M processor
Operating system: Linux 2.6
RAM: 256M
External SD card: 2G
USB interface: full speed 12M/S USB-2.0 (Host/Slave)
Encoder: 1024 pulses/turn 0.1mm resolution
Operating language: Chinese, English
LCD luminance: 1-8 level.
Detection parameters
Number of independent detection frequency: 4
Gain: 0dB~99dB, stepping: 0.1dB
Lift-off: 200mm
Minimum stepping: 1mm
Detection speed: 10--30m/min
Minimum resolution of magnetic field: 0.1GT
Probe impedance: 50Ω, 100Ω
Calibration curve: amplitude
Display mode: waveform, value
Scanning speed: 1-100 level
Center coordinates: X, Y adjustable.
Digital signal:
Digital filtering: high pass (0Hz~2000Hz), low-pass (0Hz~2000Hz)
Filter sampling points: 1-1024
Broadband: 50Hz~1MHz
A/D rate: 12bit 100M
Minimum sensitivity: 1mV
Real-time average: 2, 4, 8, 16, 32
Auto balance: digital electrical equilibrium.
Automatically remove the geomagnetic field effect.
Alarm settings:
Type: equal amplitude square frame
Number of gates: A/B
Amplitude: 10% -100%
Sound: On/Off
Peripheral device: Photoelectric I/O.
Storage of parameters and data:
Storage, deletion, editing of detection parameters: more than 10,000 groups
Storage, playback, analysis, saving, printing of real-time signal: 8G/24Hour
Detection picture: more than 10,000 groups
Save as: USB memorizer
Print: on-line, wireless.
Auxiliary systems:
The portable metal magnetic memory tester will automatically display the calendar, time and battery capacity.
The operation is simple and convenient with the help of real-time screen hint.
There will be online HOTKEY graphics and text to help.
Appearance and size:
Length X width X height: 260mm X 170mm X 60mm
Monitor: resolution 640 X 480 5.7 inches TFT color LCD
Weight: 2Kg(including the battery)
Interface: LEMO-6 DB-25
Lithium battery: 12V 3000mAH
Power source: 110V/60hz 220V/50hz
Working temperature: -20℃~50℃
Features:
The portable metal magnetic memory tester adopts non-contact detection. Thus, the detection will not be influenced by the size and shape of the target parts.
Other products