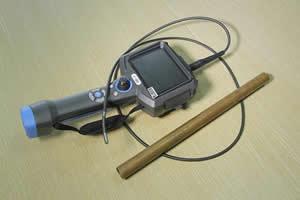 Application:
The COBE-ESP02 portable industrial videoscope is widely used for inspection operations in theauto industry, petrochemical industry, railway industry, shipbuilding industry etc.
Auto industry: quality detection and assembly testing of engine, hydraulic parts and nozzles
Machinery industry: detection of boiler, heat exchanger, mechanical equipment and manufacturing equipment
Petrochemical industry: detection of process pipelines, pressure vessels, pipes and other equipment
Space and aircraft industry: regular detection or aircraft detection of turbines, blades, combustors development and manufacturing of rocket engine
Railway and shipbuilding industry: detection of turbines, heaters, diesel engines, boiler flames, pipes.
Parameters
Screen: 5.7 inches color TFT-LCD
LCD luminance: 1~8 levels
Sensor: SONY HD CCD
Resolution: >400,000 Pix
SNR (Signal to Noise Ratio): ≧52dB
Visual angle of probe: horizontal 360 degrees, vertical 360 degrees
Probe line length: 0.5m~30m
Probe diameter: 10mm~100mm
Storage: 200 graphics (can be extended to 10,000) also, save as to a U disk
Built-in rechargeable lithium battery: 8000MAH
It can automatically show calendar, time, battery capacity.
Functions and features
The COBE-ESP02 portable industrial videoscope is a technologically advanced industrial videoscope developed by COBE. It adopts the latest video decoding technology and high-performance 32-bit double CPU system, so that the video quality and refresh rate are optimized. Meanwhile, it is equipped with large storage devices and USB communication capabilities, thus, you can retrieve the detection data quickly, safely and efficiently.
Other products